Troubleshooting
If something does not work as expected or even worth, the program crashes and you don't know why, then you may want to run it from the command prompt like that:
chessgame-analyzer.exe stockfish <chess_game_file.pgn>
You may either copy the <chess_game_file.pgn> file to the same folder where chessgame-analyzer.exe is located or use the full path to it. Make sure to enclose it in double quotation marks, if it contains spaces.
If you cannot figure out the problem on your own, you may email me the screenshot in jpg or png format as well as the pgn file.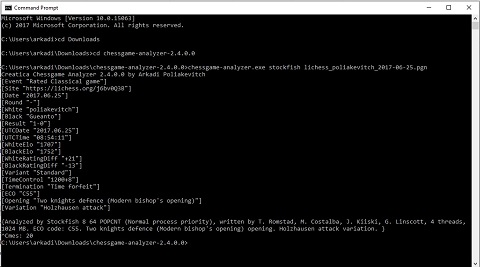 If chessgame-analyzer.exe hangs ,then you may try to analyze included test_suite.pgn file. If it works, then most likely there is something wrong with your pgn file. You may pass it to pgn-extract.exe with -r parameter, which would report any errors if any; for example,

pgn-extract.exe -r test_suite.pgn
Processing test_suite.pgn
poliakevitch - Korea941 Rated Classical game https://lichess.org/ctCKU04n 2017.07.21
poliakevitch - dtfmano18 Rated Classical game https://lichess.org/qSbeDvJ4 2017.07.22
caloustique - poliakevitch Smith-Morra Gambit Cup - Round 1 Chess.com 2017.03.31
Meessen, Rudolf - Wantola, Ivo TCh-BEL 2016-17 Belgium BEL 2017.01.29
Kaasen, Tor Fredrik - Chatalbashev, Boris Kragero Resort Chess 2017 Kragero NOR 2017.02.26
Maghsoodloo, Parham - Kuybokarov, Temur Aeroflot Open A 2017 Moscow RUS 2017.02.27
Movsesian, Sergei - Bologan, Viktor 2009.07.28
7 games matched out of 7.